INTERVIEW
 RADIO

※ミュージックオフにしてご視聴下さい
Hair&Makeup                  

宮坂 和典 (mod's hair)
Kazunori Miyasaka
Mr.Kazunori Miyasaka is an active hair and makeup artist from Mod's hair , and has worked with artists, TV stars and athletes. His works appear on advertisements, TVCM, promotion videos and fashion magazines. He also worked as a part of a photo shooting crew for ARIKI season collection for several times.

PROFILE:
1994- He first started his career at Shiseido, where he worked as a hairdresser in MASA salon for 7 years, after that he started working as a hair and makeup artist.
While he was working for Shiseido group, he worked on hair and makeup styling for TV stars and fashion models mainly in advertisements and TV commercials.
Since 2005, he has worked on the set of numerous prestigious runway shows of NY collections and PARIS collections. He was also appointed as a chief hair and makeup artist for ISSEI MIYAKE.
He also involved with new products development for international cosmetic brands such as AUPRES (Chinese cosmetic brands) and SHISEIDO MAKEUP INTERNATIONAL as well as Japanese cosmetic brands.
In 2010, he started working as a freelance hair and makeup artist.
Since 2012, he has been working for Mod's hair.

http://www.modshair.co.jp/agency/detail.php?artist_id=14

He has been an active hair and makeup artist and working with artists, TV starts and athletes mainly advertisements, TV commercial, promotion videos and fashion magazines.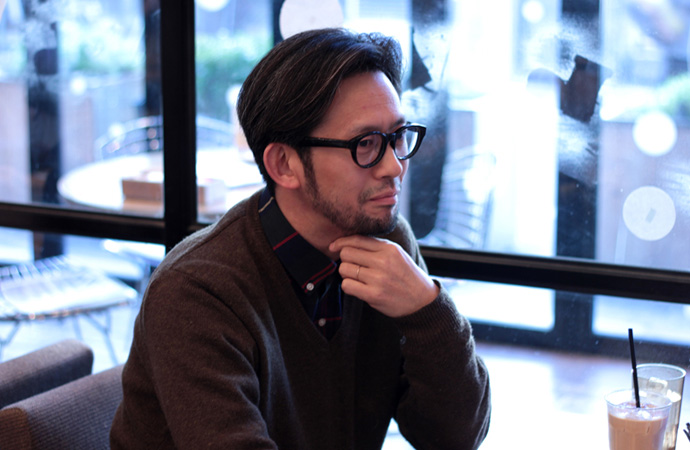 <Mr.Miyasaka>

- How would you describe your profession?

"Hair/make" would be the right phrase. (In Japan, a profession of Hair and
makeup artist is contracted into shorter forms as "Hair/make".)
I feel more comfortable with introducing myself as a "Hair/make" instead of a
"Hair and makeup artist".

- What led you to be a "Hair/make"?

Actually I started my study in beauty industry although I did not even know
about the profession of "Hair/make".
I originally wanted to be a hairdresser and that was the reason why I decided to
get into the beauty industry.
Since I was a child, I always liked dressing up. But I was a baseball kid until the
summer in my 3rd year of high school, so I always had shaved head which did not
allow me to play with my hairstyle. (In Japan, kids are normally required to have
shaved head while they are playing in a baseball team at high school.) But I did
not want to look like a typical baseball kid, so I tried to dress up in a different
style or wearing a hat or other stuffs to make myself look something else, and I
enjoyed that.
When I started thinking about my future career, I came up with some options
which would allow me to do something I liked such as making clothes instead of
being a craftsman. Later on, I got the idea to be a hairdresser and I thought it
must be such a cool job that you cut someone's hair and make them look
beautiful, and having your own salon must be very nice.I had never been to a
hair salon when I was young. But every time I passed by in front of a hair salon,
those hairdressers looked so cool to me while they were working on their
customers' hairs.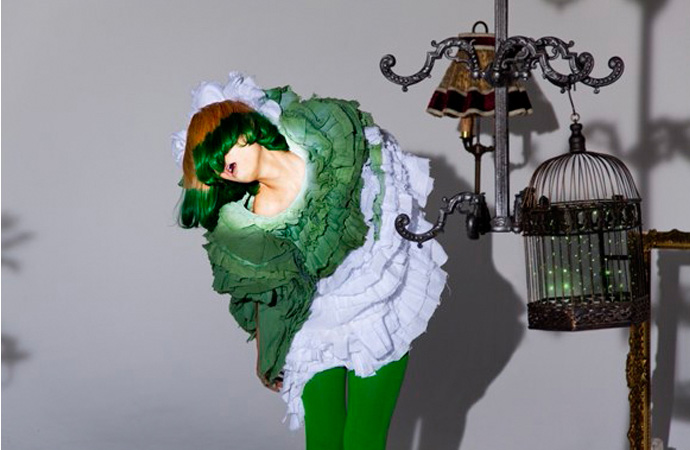 <PARALLEL#1>

I guess it seemed natural to me that imagine myself to be a
hairdresser as I felt more closer and I thought it would probably possible to be a
professional hairdresser as long as I make an effort, while fashion industry
seemed too magnificent world to me.


- I assume your world had changed a lot after deciding to be a hairdresser?


Yes, it changed dramatically. Because I suddenly started telling my decision to
the other people that I was going to a hair stylist academy, people got the wrong
impression that I was simply going to a hair stylist academy because there were
no other options for me, rather than I was actually having a serious motivation
to be a hairdresser. My mother was the only one who understood that I was
serious.

- What was the reason why you chose SHISEIDO School for studying?

I was a little bit carefree at that time. I thought it would not be any problem to
enter an academy as long as you send the application, so I started sending my
applications quite late.
Then by the time I contacted to all the famous schools in Tokyo, it turned out
that there were no spots left for me.
I found only two schools in the city still accepting the second round of
applications from students, and one of them was SHISEIDO academy.


I studied there for a year (At that time, it was required to study only 1 year
course at a hair stylist academy in Japan.)
At that time, it was just before hair dresser's booms rose in Japan and there
were many popular hair salons in Omotesando and Harajuku areas in Tokyo. All
my class mates already knew very well about the beauty industry even before
they started their career and most of them were ambitious to work only in one of
those famous ones in Omotesando or Harajuku area. In the other hand, I did not
know much hair salons, so I did not think the same way as the others.
I applied for a job at Shiseido as I heard there was a job opening, and then I got
a job. For the first year, I worked as a trainee and did mainly shampoo or
massage for customers. Next year, I challenged to take an exam to be a full time
position.


There were only 2 available spots among all trainees, and I was able to pass the
exam to be a full time employee for Shiseido officially. Having experienced
everything through salon works, having practiced haircut then having been able
to provide service to customers alone, then finally I got promoted as a
professional stylist. I gained experiences year by year. Shiseido is a big
company, so there were different kinds of stylists who do salon works and the
others work as hair and makeup artists in a same building.


But I did not know about a job "Hair/makeup" at that time.


Through training program at Shiseido,
I had the opportunity to learn how to do makeup and techniques from those
professional makeup artists. That's how I got to know about a job position of
"Hair/makeup" and realized TVCM and all those advertisement are actually done
by those people who work in a same building as me.
At the early stage, I was not very interested in shifting my career as a hair and
makeup artist. More and more I gained the experiences and skills, I got more
private customers of my own. After a while I started getting interest in hair and
makeup job as I thought I should take advantage of working in Shiseido where I
could develop myself as an active hair and makeup artist, and it would be a good
for my career to step up.


After working at the Shiseido's hair salon for 6years,
I told my boss that I want to shift my career to hair and makeup artist instead of
being specialized as a hair dresser. I had to wait for about two more years until
shifting my career to hair and makeup artist as I had many of my own customers
at the hair salon and management did not let me leave the salon.
I started to work as an assistant to hair and makeup artist first, and then later on
I started doing hair and makeup on male clients. Overall, I worked as a hair and
makeup artist for Shiseido for 16 years.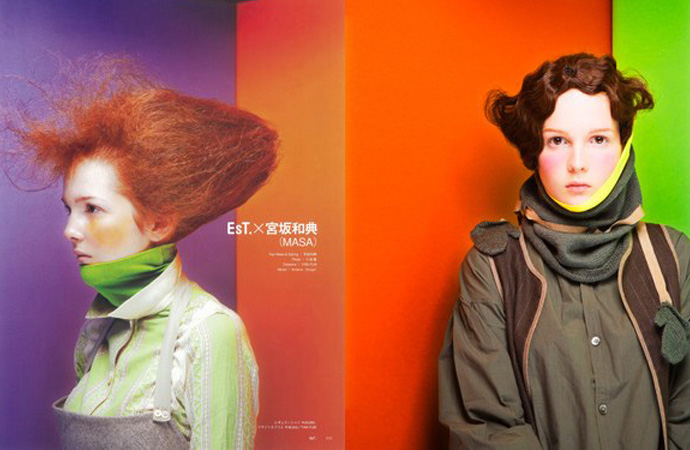 <EsT.>

- What is your inspiration?

Everything. "Everything" means that all the things you see in your daily life such
as photos from magazines, furniture or decorations at shops..etc.
These are examples of shapes. In terms of makeup, I get the inspirations from
color as well. This is probably the characteristic of this kind of job, but you really
get inspired by daily life. In the other words, I can't think of anything specific
to give me inspiration in a special way.

- Did you change your style for your creation due to your child's birth before and after?

I would say I changed the way I feel how time passes or the way I use my own
time.I would like to spend my time as much as possible for my child and I would
like to be available in "the moment" of my child. I must admit that the amount of
my time I used to spend only for myself has decreased a lot. I separate work
time and private time. When I am at work, I only think of my work. When I am
with my child, I only do things for my child.
I am not sure if that is good or bad though.

- When you create the whole styling of hair and makeup, which one does it come first?
Hair styling or makeup?

It depends on the situation. Sometimes I put my work more on one of them, but
I always picture the whole visual in my head at the same time.So I mainly think
of the whole thing instead of thinking of one of them separately.

- Is there anything you tend to make difference of your work between still images and movies?

In terms of makeup, I do my best to make a subject look beautiful no matter it
is picture or movie.However, it will be different for the hair styling. It depends on
whether I capture hair styling as a subject in a flat screen or making it look
attractive as moving shot. I still think hair styling is difficult. I believe my work
should not be that distinguish. Everything needs to be balanced and that is how
a finished visual can be the best.
Normally, shooting outside is hard. We have to think of how natural wind and
lights will appear in the shot. If the condition changes, we have to be flexible and
change the way of styling. But sometimes there is nothing you can do about. We
can't defeat nature really.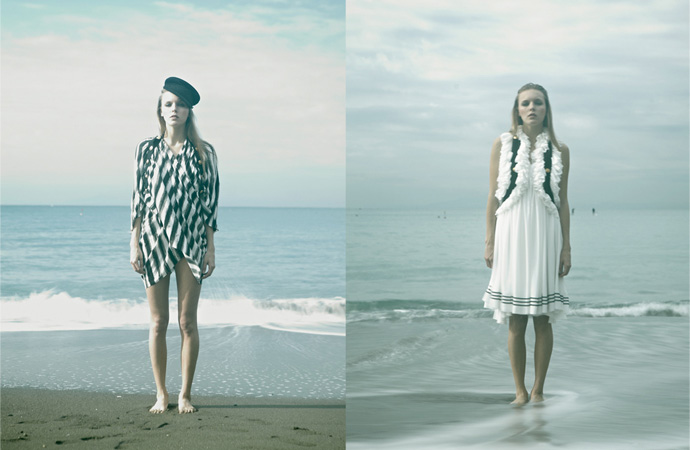 <ARIKI 2013SS>


- You did a shooting for my collection in the beach… haha

Exactly! But the theme of that season collection did not require the perfectly-set
kind of hair styling. I think the way it looked natural matched better with the
theme and it brought something real to the concept. If we had to do something
proper and classic look, I would have struggled that shooting at the beach.

- What is the thing you concern the most when you create something requested by clients?

For instance, sometimes I create elaborate look as well as no makeup look for
the shooting. Although they tell you what they want in the beginning, you adjust
your work by communicating among each other while you are working at the
same time. But what you see in the picture could look differently to each person.
So I always decide how I should create looks after brain storming in my head
whether I should add extra different arrangement or I should simply create looks
as exactly required. It is also important to think the condition of the subject
and try to avoid adding unnecessary things.

- I assume you have to be brave, to work 'I'm going to do nothing'."

I agree. I assume there are some people who feel unsatisfied if they don't put
their work on as you normally satisfy by performing well. Sometimes it is not
about the process what you put on. More important thing is about the complete
look in the whole picture.

- Well, how do you think about collaborating with clothing? And how would you do
when there is no any specific request for the style of hair and makeup?

If there is no specific request, I try to come up 2 or 3 ideas for direction.
I try to capture the whole concept as the whole team. I try to see whether
everyone understands in the same way and looking at the same direction or if
they are just talking about an idea without being aware of the whole things. If
someone suddenly suggests an idea there, I will adopt it as long as it is good one
and take into my styling.
Hair and makeup artists may think about the detailed techniques due to our
profession, but it is more important that we propose something clear to
everyone to understand the whole concept.
It is similar with the designing of clothing. If you change the detail even a little,
it could change the whole impression. So sometimes it is difficult.
When we work for clothing brand, our work should be essential in pulling off the
best look to build the budding concept into the best design achievement.
It is about clothing and not about hair and makeup, so we should not do some
works to get the whole attention on hair and makeup.
It is nice to think that our input accomplish the whole concept.

- When you're being hired to work there, you would probably want to do your best job.
But I was surprised to hear that sometimes you decide not to add any of your input for good.

Well, I would not understand that when I was young.
Of course you want to do your works. It is fun to create something with your
skills. But there are always opportunities to prove your skills. You have to be
able to be flexible and judge what would be the best thing to do to pull off the
best look in each circumstance. As you have skills, you want to use it. And most
likely you get satisfied if you can do the best job with your skills. But that is
matter of discussion that how you could use your own skills and not how you
created the complete look. So when you think about it later, you realize that you
were only thinking from inside of the box. This job depends on your hand with
skills and your imaginations in your head.I did have the moment that I was not
aware of many things.At the same time, you tend to become more passive once
you learn and understand many things. More and more you gain skills, you can
easily see what would be the best thing to do and more and more you tend to
avoid the risk. But in your early stage, you would do whatever you want no
matter other people might laugh at you. I admire those creators who carry on
stick to their own style.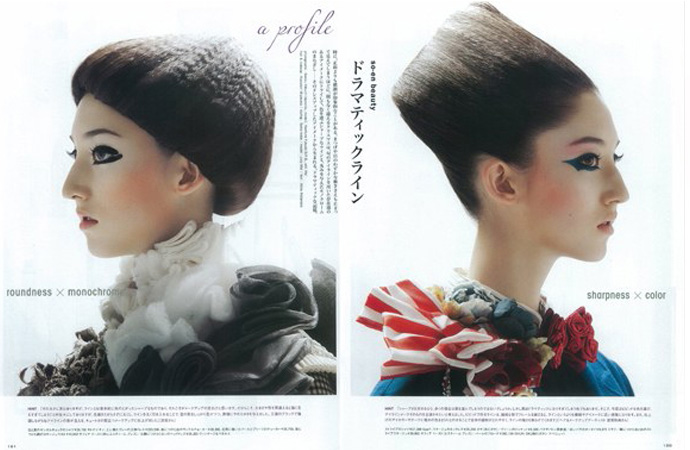 <SO-EN>



- What are the differences between hair and makeup on women and men?

Well, male originally do not wear much makeup, so I tend to focus on their
hairstyle more and imagine what kind of new look I can express with hair styling.
For female, I can do a lot with makeup as well as hair styling. So I can create big
change on their looks. For female, you enjoy as greater in scope what you can do.
or the male, you enjoy as limited in scope what you can do but still you can
express something. With a little arrangement, the whole impression could
change. That's similar with designing clothes which can be difficult as well as
interesting.

- I guess you have many opportunities to work with famous people or successful
people. Is there anything you find something common that they have?

I would say those people have a great personality. They have good flexibility.
They do not judge you by your age or your career length even though they are
an expert in their world. I guess they always try to compromise with the others
at work. They see you who you are, not by prejudice. We become their fans
through working together with these kinds of people.Recently, I worked with
someone who is successfully working in a big scale. That person was very frank.
He tries something he likes, and then he took the opportunity. It seems to me
that he simply does what he needs to do, and then he accomplishes the good
output. Just seeing what he does is inspiring to me.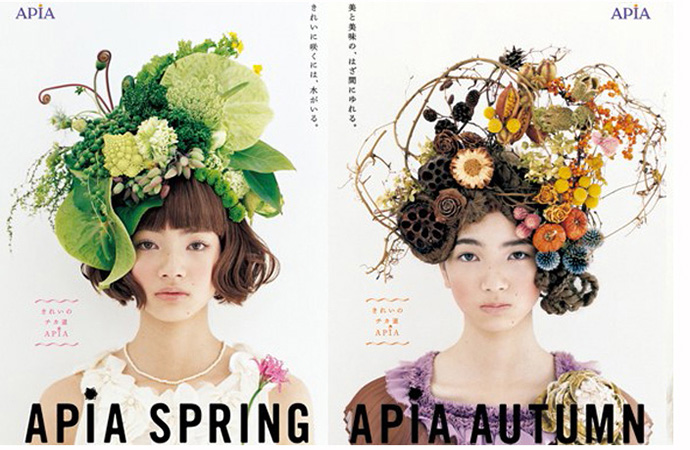 <APIA>

- I heard you worked with Issei Miyake and Alexander Wang for their fashion show
in abroad. What are the differences of working in abroad and in Japan?

I would say the mindset and importance towards the fashion collection.
In abroad, the entire city in enlivened during the fashion show each season. But
in Japan, it seems that only people in fashion industry involve in the fashion
week.
I am not sure it is because of the differences of history as fashion week is still
new in Japan, or it is because the way people comprehend the fashion is
different. I feel the different level of enthusiasm.
But the process of the work is exactly the same in both abroad and Japan.

- What is your future plan for your career?

I enjoy what I do, so I would like to continue working on creation using my hands.
I started my career as a hairdresser because I simply wanted make everyone
happy by cutting their hair using my techniques.I still feel the same after having
become a hair/makeup. I would like to remain out in the field doing the work.
I will go wherever I need to be as long as I can use the best of my experiences.

- What is the favorite part of your job as a hair/makeup?

I love being involved in a creation as one of the member in a team. A hair/
makeup job does not complete the creation work on your own and you always
work in a team with skillful members who have individual specialty on their own.
I enjoy work using my techniques and create something with a team.
Anyone can create something satisfy the requirement. But it is more exciting to
create something unexpected with your best ability you can. That process is the
favorite part in my job.

- Could you give any advice for students?

It is very important to continue what you started. I know many people quit even
before they start enjoying it. It is important to not to give up easily and don't
forget that eventually you will enjoy what you do later on!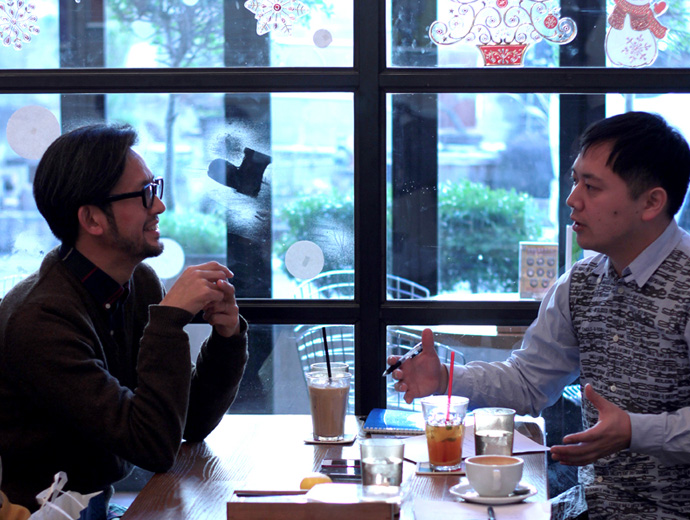 Interview 2013/12
Reporter : Ryota Ariki
Photo/assistant : Yurika Nakano
Translator : Mari Kishimoto